Copyright 2002-2009 © Bachelorette Party Atlantic City and New York Bachelorette Party. All rights reserved.
All images and depictions of male strippers , bachelorette parties, male revues, male strip clubs, girls night out
were over the age of 21 at the time they were taken

Beefcake Entertainment Bachelorette Party
Male Strippers
Atlantic City & New York City
Male Strip Shows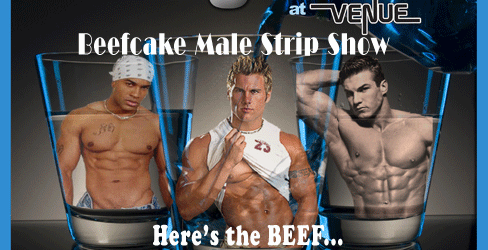 Beefcake Bachelorette Party Male Strip Shows
has recently temporarily combined its shows with Savage Men
ShowBoat Hotel and Casino / House of Blues Night club
Indulge in a Girls Night Out of Hot Men, Tasty Cocktails and Sexy Music.
A vertual high energy audience participation male revue now in it's 3rd year.
A high energy whirlwind of gorgeous Beefcakes and seductive sensations await you as you make your way into the most talked about Male Revue.
You will be greeted by an entourage of finely toned Beefcake greeters, Waiters and Massage Hunks, whom will anxiously cater to your every whim. After you make your way to the main room, you and your guests will have a chance to participate in a few pre-show activities, or if you prefer, sit back, enjoy a drink, the environment, and perhaps, a long hard relaxing massage by one of our many enticing massage Beefcakes.
Your host and tour guide for the evening will lead you through this fun filled event of unparalleled excitement.
A variety of packages and recomendations are available to make sure there is nothing overlooked.
Whether it's a New York bachelorette Party, New York birthday party or girls night out New York, Beefcake Male Strip Shows is your first and only stop to an outrageously amazing evening of laughs, fun and seduction!
Beefcake Male Revue has real live models with major national advertisements. From Romance Cover Icons to Armani underwear models to Playgirl Centerfolds, this Revue will have you sliding in your seat.
Show time
Now Performing at the ShowBoat Hotel and Casino inside the House of Blues Complex every Saturday Night, all year long.
Doors open at 8pm show time 9- 11pm. Tickets $28.00 general admission - $48. VIP

New York City Male Strip Clubs at Crash Mansion
Atlantic City Male Strip Clubs at Showboat Casino

---
The Men you see are the male strippers that perform in the selected male revues listed above. Not all the performers are listed.


Bachelorette Party Ideas Atlantic City, Girls Night Out ideas Atlantic City, Male Strip Show Atlantic City and Atlantic City Male Strippers with Male Exotic Dancers Atlantic City & bachelorette party ideas new york NYC and Male strippers New York - Male Strip Shows New York - Wild New York Male Strip Clubs for Girls Night Out NYC


609-674-8343